Check-in and never check out. You can bring the luxuries of a hotel to your home just by adding a few bedroom essentials.
Bedroom Essentials to Elevate Your Master Bedroom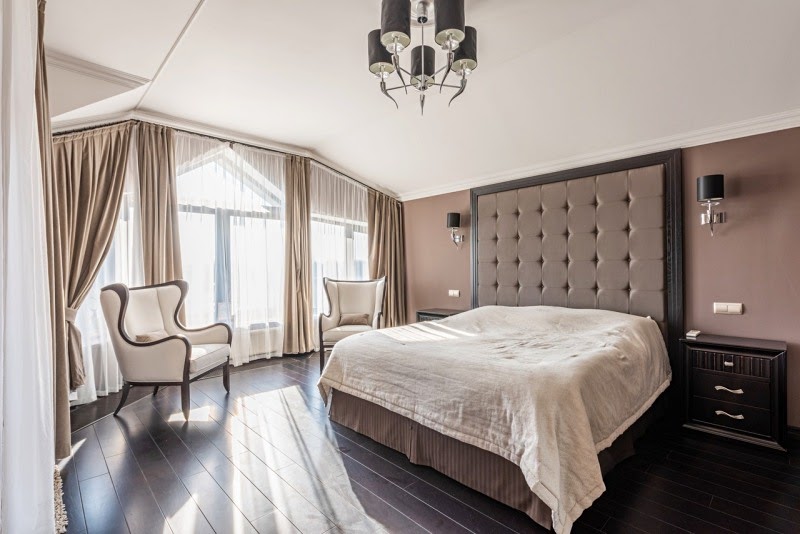 Hotels usually have multi-layered curtains or sleek blinds that give you privacy and dimmer lighting for bedtime.
Curtains or great blinds will block out the sun, so the morning light doesn't interrupt your slumber. But it could also frame your window. And its size is key in establishing the color palette or design concept of your room.
Embroidered curtains add a regal touch and an elegant aesthetic to your bedroom. A silk curtain with intricate patterns gives a delicate and charming aesthetic. Blinds with a bold color introduce a more modern, minimalistic element to your interior design.
For a more cohesive design, match your curtains with your beddings.
Silken sheets and plush beddings make your bed look inviting, putting you in a dreamy state even before you've laid your head.
Bed sheets are bedroom accessories that are central to your room's interior. Much like your curtains or blinds, their color and texture will play up or down whatever style you had in mind. Are you fashioning your room after a palatial luxury hotel? Or are your 1000-thread count sheets inspired by your recent stay in a premier Caribbean resort?
Purchase a handful of choice linens that you would like to keep on rotation. Cotton percale is a popular choice for luxury hotel chains and is ideal for those who like to stay cool throughout the night. Cotton satin boasts a smooth, silk-like finish and opulent sheen.
But your definition of luxury and taste is personal, so keep a few printed pieces that reflect your own.
Pillows (like our ball fiber pillows) are a marriage of form and function. In addition to supporting your neck, it embodies the coziness you can only feel once you hit the mattress.
Geometric patterns on curated pillows exude a modern and artful flair. Meanwhile, a color block color design incorporating different shades of the same color can be as sleek or as cozy as you'd like depending on the color hue you choose.
Do you want your bed to look as immaculate as those in hotel suites? Press your sheets after you have them washed. If you would like to maintain their crisp and polished aesthetic, keep a steamer handy in your closet.
To truly keep in line with a suite experience, opt for crispy white sheets. Powder blue shades and light, airy tones help to achieve a calmer atmosphere that may help calm your mind and sleep your worries away.
The stark contrast between a harsh, cool white light and warm daylight lighting is the difference between a house and a home.
A comfortable shade can soothe your eyes and relax them in time for your slumber. Choosing a bulb with a dimmer can help you control how much light you want without additional lighting fixtures. Otherwise, you can use bulbs with lower wattages for desk lamps and bedside lamps.
A movable reading light will give you the light you need without having to turn on the main lights. Track lights pointing towards the wall can give you ample lighting so you can navigate your way from the bed to the bathroom.
Because Serta mattresses will keep you glued to your bed, consider installing a lighting system that you can control from your phone.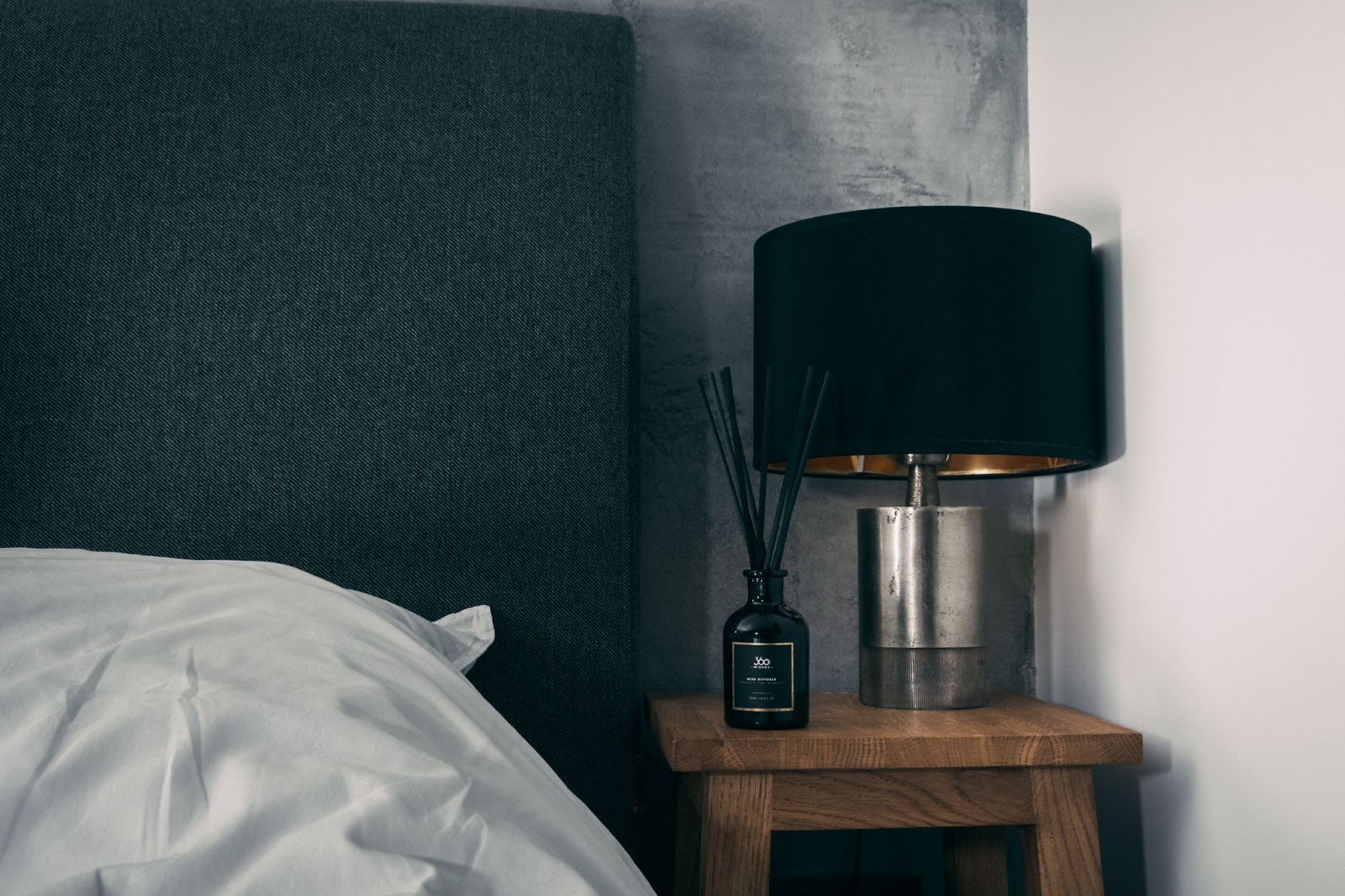 A luxury hotel bedroom pleases all the senses.
Scented candles, wax warmers, and reed diffusers are the latest in bedroom essentials. These can round up your room nicely.
Every luxury hotel has a signature scent. Be it a fresh bamboo fragrance or a garden musk, these scents immediately transport you to a more relaxed space.
A lavender linen spray may help calm and relax you, putting you in a better sleeping mood. Chamomile is another refreshing and soothing scent you may want to explore.
Your diffuser or candle warmer also doubles as a design piece. Muted tones blend well with any color scheme. Pastel shades give your room a homey feel.
Keep them on your bedside table or on top of your dresser. Place them adjacent to a vase of dried flowers to bring life to your garden musk.
Consider a fuzzy rug or a downy carpet an extension of your cozy bed. Keep your toes snug even after you leave the warmth of the covers.
Like your lighting, rugs and carpets offer design accents that can elevate your room's aesthetic.
If there's no space under your bed, place a fuzzy rug on either side of the bed. You can also place the rug in the center of the room if you want to keep your design symmetrical.
Most hotel rooms feature luxe carpeted floors. They also have maintenance personnel cleaning and vacuuming round the clock. A plush rug is an ideal alternative for those that want carpet, but want to display their wooden floor panels.
A master bedroom isn't complete without a masterclass mattress. And the Celestial collection is our choice pick for the ultimate luxury hotel experience.
Your bed is the centerpiece of your bedroom and deserves the most attention. A grand king-sized mattress will do justice to a palatial bedroom.
Wooden bed frames with intricate details exude an aura of majesty and elegance. A soft headboard and bed frame perfectly complement a bouncy mattress.
Choose a mattress that offers supreme support and temperature regulation, giving you your most restful slumber.
Your feet should be flat on the floor when you sit on the edge of your bed. The correct bed height will make getting on and off effortless.
For hotel bed ideas, check out Serta's wide range of orthopedic and temperature-regulated mattresses.
Luxury hotel chains choose Serta for their mattress needs. For your home suite, look no further than Serta.
These six bedroom essentials are all it takes to turn your house into a home, your master bedroom into a premier hotel suite.
What other items do you think we need to add to this list to achieve the ultimate hotel bedroom? We'd love to hear your thoughts in the comments below.