Fitted bedsheets come with elastic bands along the corners, guaranteeing a snug fit. Here's why we think it can also give you more snug rest.
RELATED: Major Differences Between Duvet vs Comforter
Fitted Sheets—Your Bedding Essential
What Is a Fitted Bedsheet?
When shopping for your bedding, in addition to thread count, fabric types, and patterns, you'll come across the decision between a fitted bedsheet or a flat bedsheet.
A flat bedsheet is a large piece of fabric that you tuck underneath your mattress to secure. On the other hand, a fitted bedsheet comes with stretchy elastic bands on each corner that you can pull over edges of your bed. Some fitted sheets are lined with elastic bands along all edges to ensure a snug fit. Unlike fitted bedsheets, you may need extra pins or a really good bedding technique to keep your flat sheets in place.
Fitted bedsheets, though known mostly as a design piece, serve a greater purpose for your bed. In addition to protecting your premium Serta mattress, it can improve your sleep experience. The right beddings can contribute to deeper, more restful slumber by providing the ideal sleeping environment and keeping you cozy and comfy all throughout the night.
Our choice is pick is the Serta TENCEL™ bed linen, which provides a cool and smooth sleeping surface. Featuring a light blue marble design, your bed will look as fresh as it feels.
Here are other reasons why we think you should invest in fitted linens.
Why Use Fitted Bedsheets?
1. Fitted Sheets Stay On
One of the more obvious benefits of fitted sheets is that they're designed to stay affixed to your mattress.
Fitted sheets hug the bottom corners of your bed with the edges tucked underneath. They won't move around even if you roll around in your bed or Fido decides to nestle himself between your sheets and duvets.
You may not be able to same the same of flat sheets. When tucked in poorly, you may find yourself tangled up in your flat bedsheet along with your blanket.
Fitted sheets will also give your bed a smooth and crisp appearance all the time as they easily snap into place.
2. Fitted Bedsheets Offer a Fit Layer of Protection
Bedsheets are your first line of defense for your mattress. They can protect it from daily wear and tear, dust mites, and odor-causing germs that could find home in your bed.
Wash your beddings every two weeks to keep it clean and hygienic. Your bed actually collects a lot of dirt and bacteria that you may have gathered outside your home during the day. By cleaning your bed linens regularly, you prevent them from accumulating and put a stop to a possible bed bug infestation.
Toss your sheets in the washing machine once weekly if you're particularly sensitive to dust mites or are prone to allergies. And if Fido prefers to snuggle up in your Serta mattress instead of his own bed, run it through the wash every week. Bed bugs might also hitchhike their way into your homes and onto your beds through your pet.
Note from Serta: We still encourage you to purchase a mattress protector. It provides a waterproof shield between your mattress and your morning cup of Joe.The Serta Virosafe mattress protector can cut down viral, bacterial, and dust mite activities, providing you with a a hygienic and allergen-free sleeping experience.
RELATED: 7 Smart Reasons Why A Mattress Protector Should Be Non-negotiable On Your Bedroom
3. Fitted Sheets Are Ideal for All Mattress Types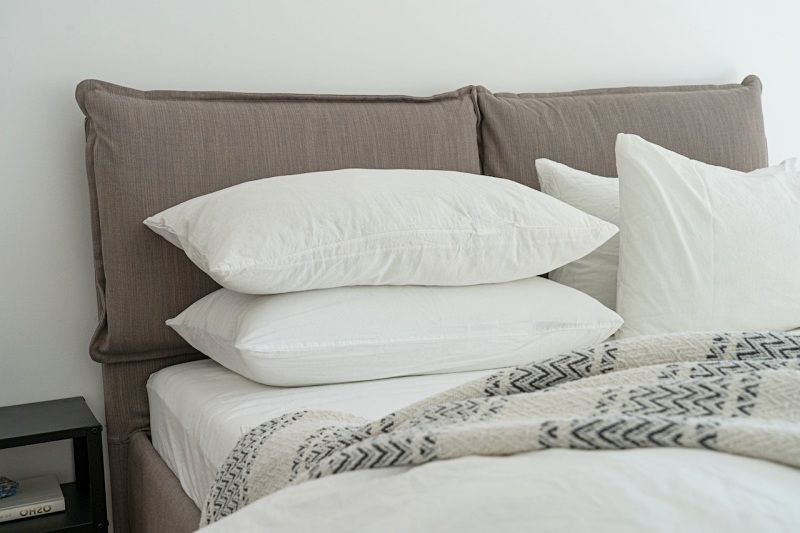 Whether you have a lightweight foam mattress or a weighty pocket spring or hybrid mattress, you'll find that your fitted bedsheet stays snug and tight.
Flat sheets work better with mattress with substantial downforce to help secure them in place. If your foam mattress is too light, you may have a hard time fastening your flat sheet in place. If your pocket spring mattress or hybrid mattress is too heavy, you might not even be able to tuck your sheet under your bed.
This is not an issue for fitted sheets. As long as you buy the correct size, they'll snap into place and stay there. And because of your fitted sheet is snug and taut over the corners for your bed, housekeeping becomes easier. No need to readjust your sheets in the morning.
4. Overall, Fitted Sheets Are Low Maintenance
Wash your sheets as you would your other beddings. However, pay attention to the care label it comes with.
Different fabrics require different levels of care. For example, cotton sateen sheets are fairly low maintenance and remain smooth and soft even after many washes. You can also wash your other bedding in the same load. On the other hand, silk sheets should be wash very delicately and cannot be washed with other fabrics.
But other than that, the elastic bands on your linens don't need any special attention or specific washing instructions.
Are Fitted or Flat Bedsheets Better?
There is no definite answer as each comes with their own set of pros and cons. Ultimately, it all boils down to your personal preference.
Some sleepers may enjoy the versatility that comes with a flat sheet. A large flat sheet can accommodate a variety of mattress sizes, so you don't need to worry about getting the correct size if you have multiple beds of different sizes. With the right technique and enough practice, flat sheets can also stay secured to your bed as well as a fitted sheet would.
And if you have additional mattress toppers, flat sheets may still be able to cover them. Meanwhile, fitted sheets might fit your mattress just perfectly and may not have any wiggle room to accommodate a topper.
But some sleepers may prefer easy-to-use fitted bedsheets. They're tailor fit to your mattress and are designed to stay on no matter how you toss and turn. There's also no learning curve to learning to arrange fitted sheets and you can lay them in seconds flat—no pun intended.
Bedsheets are one of the first pieces of beddings you buy after your mattress. The right sheets—whether fitted or flat—can help enhance your overall sleep experience and even improve the lifespan of your bed.
You'll never catch a bed without one—unless your flat sheet came loose.
Do you prefer outfitting with fitted bedsheets or do you prefer loose flat sheets? Share your thoughts with us in the comments section below! We'd love to hear from you.
UP NEXT: