Are you planning out the layout of your two bedroom condo? We'll share with you the things you need to know when furnishing the bedroom.
RELATED: 6 Bedroom Essentials You Need to Achieve an Ultimate Luxury Hotel Vibe
Your Mattress Shopping Guide for Your Two Bedroom Condo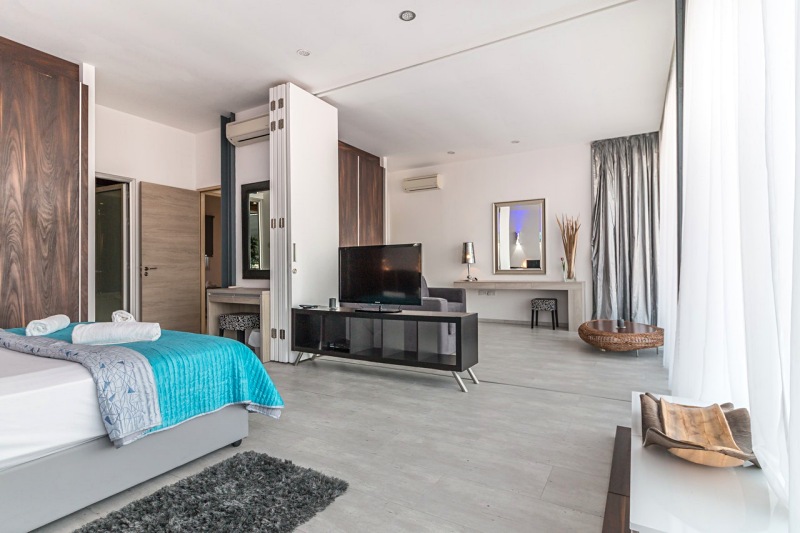 Things to Consider When Mattress Shopping
1. Bedroom Size
As a general rule of thumb, make sure that you have at least three feet of space on either side of your bed. This allows you enough space to move comfortably and freely around your bedroom.
While the centerpiece of your bedroom is the bed, you should leave enough space for your other bedroom furniture. Consider the size of your dresser, bedside tables, and lounge chair.
As soon as you get the dimensions of your bedroom, draft a blueprint to help you decide the best spots to place your furniture. But if you're a more visual person, outline the shape of your ideal mattress size plus a few centimeters to account for the bed frame.
This will give you an idea of how to plot the rest of your fixtures and reveal how much space you're actually dealing with. It's easy to underestimate or overestimate the size of your room. And you could easily end up with a claustrophobic master bedroom!
2. Budget
Like a mattress that fits perfectly in the bedroom, its price should also match your budget.
Think about these when budgeting for your mattress:
Is the mattress future-proof?
How long will I be staying in this condo?
How long is the lifespan of the mattress?
If you're buying a mattress for growing kids, make sure that they don't outgrow the bed too quickly.
Are you expecting to share your bed with one more person in the future? Are you planning on sharing your two bedroom condo with a four-legged companion? Be prudent in mattress shopping and choose a mattress that you can use now and in the far future.
If your two bedroom condo is just a stepping stone to a bigger three-bedroom condo, don't blow your budget on an extravagant mattress. Not unless you're sure you'll be reusing your mattress.
A mattress usually lasts 10 years until you're due for a new one. Brands that come with a gracious warranty period (like Serta) help secure your investment and give you peace of mind. Only an excellent brand will offer a warranty period as long as the lifespan of your mattress. Like Serta.
Mattresses can be expensive. In addition to working within your budget, make sure that the price is right.
3. Sleeping Partners
Do you share your bed with someone? Does your sleeping partner
It sounds tempting to sprawl around in a Super King bed, but whatever the size of your mattress, divide it by two.
For example, if you opt for a queen bed, each person will get 76cm of wiggle room. That's less than the width of a single bed. But if you're both cuddly and enjoy physical touch as a love language, a queen bed could be the best option.
Another sleeping partner that loves physical touch? Your pet.
And when Fido insists that your Serta mattress is more comfortable than his doggy bed, you might as well get a two-person bed.
This gives your furry companion room to roam, stretch, and have enough cool spots on the bed. But we all know that his favorite spot will also be right next to you.
Also, consider the sleeping position of your sleeping partner. Your partner might need more room to stretch and toss and turn. And if you both sleep like starfishes, we recommend the Philippine Super King.
RELATED: 3 Best Serta Mattresses When Sleeping With Your Dog
4. Height
Think about your height plus the pillows underneath and above your head. Will you still have enough leg space?
For shorter sleepers (below six feet), we recommend:
Single (91x190cm)
Super Single (106x190cm)
Philippine Semi-double (122x190cm)
Philippine Full double (137x190cm)
Queen (152x190cm)
King (183x190cm)
For taller sleepers (over six feet), we recommend:
US Queen (152x198cm)
Philippine King (183x198cm)
Super King (200x200cm)
Philippine Super King (198x203cm)
The height of your bed is also significant.
Your feet should touch the floor when you sit on the edge of your bed. Add the height of your mattress and the height of your foundation. You should be able to get on and off your bed with ease.
5. Delivery
Another test the perfect mattress has to pass is whether it can pass through your doors.
Measure the length and height of your door against your mattress. Do you think you can squeeze it through? Or will you end up setting up your bed in the living room?
Now that we've gone through all considerations, let's go over the ideal mattress sizes for each room.
Master Bedroom
The master bedroom should be adorned with only the most regal and first-class bedroom furniture. And nothing tops the king.
The Philippine Super King, Super King, and Philippine King are Serta's largest mattress sizes and are the best fit for the biggest and grandest room in your two bedroom condo.
Not only are these the widest, but they are also the longest and are designed for tall sleepers. They're also perfect for pet owners with pets that love to sleep by their feet.
Kids Room
The Single and Super Single beds are great future-proof beds for people with growing kids. It's a step towards adult-sized beds and they'll be usable until their adult years.
Do you have a big family? Go with two Super Singles or one Philippine Full double if the kiddos don't mind sharing the space.
If they want their own corner of the room, get two Single beds and position them on two corners of the room. This way, they get their own personal area and can attach twinkle lights to the wall above the bed.
Guest Room
Queen beds are conservative choices and are very popular among hotel chains. They're indulgently spacious for solo sleepers and comfortable beds for those with partners.
A queen bed fits perfectly in small rooms. But if your guest room is long, you could fit in a US Queen.
The size of your bed also plays into your bedroom decor and aesthetic. A majestic master bedroom deserves only king beds. A queen bed is an ideal size for a modest bedroom. Single or double beds are great for smaller rooms. And if you're working with full bedroom sets and are left with limited space, a Super Single is a magical combination of spacious and space-saving.
Upgrade your mattress and bedroom aesthetic with pillows, accessories, and lavish sheets and beddings. The right combination of colors and patterns can make your bed look wider and your bedroom less claustrophobic.
No matter which mattress you choose for your master bedroom, you always get premier hotel quality with a Serta mattress.
You spend a third of your life in bed. Make sure each second is lush, plush, and refreshing.
UP NEXT:
Are you going all the way with a Super King or are you satisfied with a US Queen? Sound off in the comments section below! We'd love to hear from you.