An orthopedic pillow for neck and back problems can help relieve pain, promote good posture, and improve your sleeping experience.
Most sleepers need to learn proper posture, whether standing up or lying down, is a must. Proper posture also begins at the neck until the tips of your toes. Unfortunately, even the best mattress can't do it alone. And when you're dealing with neck and back pain, getting extra bed accessories becomes much more important.
RELATED: How To Choose The Best Luxury Mattress To Achieve A Good Night's Sleep
Benefits of an Orthopedic Pillow for Neck and Lower Back Pain
1. Cradles Your Pressure Points
Pressure points are the parts of your body that have the most contact with your mattress. These are your extremities that really dig into your bed, and depending on the quality of your mattress, could ache in the morning.
Your pressure points will vary based on your sleeping position. Side sleepers may find that their shoulders and hips sink the most deeply into the mattress. On the other hand, back sleepers may feel the most pain around their hips.
Orthopedic sleeping pillows are designed to cradle your pressure points comfortably, give you a balanced sleeping surface, and improve the quality of your sleep.
2. Relieves Neck and Back Pain
Sleeping with shoulder pain can be especially tricky if you're not equipped with the right pillow. Neck and shoulder pain could happen because you strained or tensed your muscles during sleep. When your spine is misaligned, other parts of your body have to work extra hard to get into position. In other words, your muscles are tensed throughout the night and turn into tomorrow's muscle pain.
According to sleep experts, the ideal orthopedic pillows should prevent lateral flexion when you sleep on your side. This is when your neck bends to the side, sagging and straining your neck.
Orthopedic pillows designed specifically for your neck and back give you unparalleled and unwavering support that an average pillow can't. Made with sleep technology fillings and encased in special fabrics, therapeutic pillows are excellent at holding up parts of your body that need unyielding support and allowing pressure points enough room to breathe.
For side sleepers, experts recommend an orthopedic neck pillow with a height or loft of around 10cm and should be soft. At this height, your neck may be better aligned with your spine and promote a natural spinal position.
A flat pillow between your knees and thighs could straighten your hips, improve your posture, and help prevent lower back pain.
3. It May Help Treat Neck and Back Pain
An orthopedic pillow for your neck can work together with a doctor-prescribed pain reliever to help you get optimal, restorative sleep.
Sleep deficiency or a lack of sleep can worsen your neck or back pain. In fact, you can get caught in a web between pain and sleep deficiency. It's hard to sleep because of your pain, and the lack of sleep might be worsening your pain. A reliable pillow can help you get much-needed uninterrupted sleep.
Do you frequently wake up in the middle of the night to shimmy to the cool side of the bed? An orthopedic pillow with temperature-regulating abilities — a common feature of orthopedic pillows — can make sure you sleep undisturbed with a surface that stays cool throughout your beauty rest.
4. Promotes Proper Posture
A lumpy pillow and a sagging bed can cause body pains because they fail to support proper posture. An orthopedic pillow for neck and shoulder alignment helps you achieve a neutral sleeping position. This distributes your weight evenly and allows your muscles and joints to rest and recover tension-free.
5. Improves Sleep Quality
Some orthopedic pillows are made with cooling or temperature-regulating fabrics.
Designed with different fabrics and materials, you're sure to find an orthopedic pillow that meets both your needs and wants. Do you prefer plush layers? The cradling feeling of memory foam? With a wide variety of neck and back pillows in the market, you're sure to find your dream pillow — one that you'll continue reaching for even after your neck pain goes away.
RELATED: Which Mattress To Choose When You Have Chronic Back Pain?
6. Moves with You
You can find orthopedic sleeping pillows that cater to all types of sleepers — even those that like to switch up their sleeping positions. Therapeutic pillows for back and neck pain typically come in irregular shapes meant to cradle you no matter how you shift in your sleep. Some are even equipped with straps to secure your pillow to your body so that it moves with you.
A travel-friendly orthopedic pillow can help improve your sleep experience no matter where you are in the world. If you're the type of sleeper who can't get a wink of sleep without their favorite Serta mattress, an orthopedic pillow may be your best sleeping companion.
How to Use an Orthopedic Pillow for Neck and Back Pain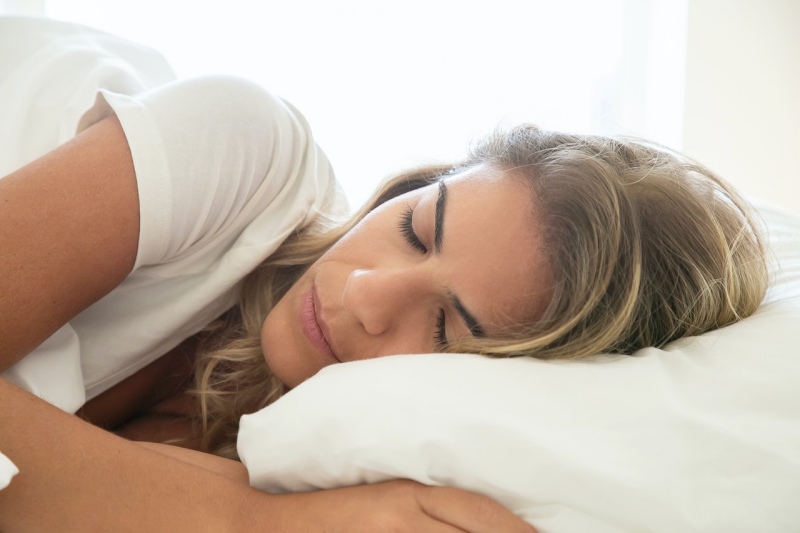 Choose a pillow with a height or loft that's high enough to keep your posture neutral. If you sleep on your side and your neck flexes towards your bed, it's probably too low. If you sleep on your back and your pillow causes your head to bend toward your chest, it may be too high.
Place a lumbar pillow underneath your lower back to make sure it gets the support it needs. Without it, your waist may sag and tense your lower back muscles.
Insert a pillow between your knees. Support between your legs can help align your hips and correct your posture.
How to Take Care of an Orthopedic Pillow for Your Neck and Back
Your pillows do expire.
Fortunately, there are ways to push back their expiration date. Wrapping them in a pillow protector can extend their lifespan and keep them fresh for longer.
Your cosmetics, skincare, and accidental spills can soil your pillow and shorten their lifespan. But a waterproof pillow protector can protect your favorite bolster from daily wear and tear, fluids, and even mites. A mattress protector can do the same for your bed, protecting it from spills and bacteria without changing the luxurious feel of your Serta Perfect Sleeper mattress.
An orthopedic pillow for neck and back pain provides excellent support beyond what an average pillow can do. The best orthopedic pillow for you is the one that caters to your particular sleeping position and habits, relieves pressure off of your muscles, and promotes good posture.
For the best sleeping experience, partner your orthopedic pillow with an orthopedic mattress. Proper posture begins from the neck all the way down to the tip of your toes. A pocket spring mattress can provide a luxurious sleeping surface that offers therapeutic benefits on a silken platter. And an orthopedic pillow to boot can secure your limbs in a comfy spot to help you achieve the most comfortable sleeping position.
Do you use an orthopedic pillow? Or have you just added one to your shopping cart? Share your thoughts with us in the comments section below! We'd love to hear from you.
UP NEXT: