A Serta hotel mattress, a favorite in the hospitality industry, is the quickest way to upgrade your master bedroom into a luxury hotel suite.
You don't need to leave the comfort of your own home to have a suite experience.
RELATED: Serta Hotel Mattress Recommendations That You'll Love
Why You Need a Serta Hotel Mattress
1. High-Quality Pocket Springs
As hotel beds are made for commercial use, they're built to last and are specially designed to withstand more than your daily wear and tear.
Made with heavy-duty materials, Serta hotel mattresses (like all other models in the catalog) are made with only the finest materials.
Hardy, hygienic, and super cozy, Serta pocket spring mattresses are manufactured with high-quality steel.
Our Eleos mattress from the Celestial collection comes with Gold Series Coils™. These German steel coils are more durable and are better protected against metal fatigue and corrosion.
Luxury hotels typically replace mattresses after five years. However, your Serta mattress can last up to 10 years.
2. Zero Motion Transfer
Do you have a sleeping partner—man or animal? Then you may have a clue about what motion transfer is.
Motion transfer happens when movement on one side of the mattress travels to the other. So if your sleeping partner is tossing and turning, chances are you will too. And when Fido decides your Serta mattress is more comfortable than his bed, you're sure to know about it.
One way to test motion isolation is to place a glass of water on the bed. If someone climbs onto the bed and the glass remains unmoved, then it may mean that your mattress has zero motion transfer.
When you sleep on a mattress with motion isolation or zero motion transfer, you can expect undisturbed sleep.
With motion isolation, your movement and the weight you apply to the mattress are confined to the area you come into contact with. And Serta hotel mattresses, built with adaptable pocket springs and several layers of body-conforming mattresses, offer motion isolation and undisturbed slumber.
A list topper for light sleepers, this is a must-have feature that not all spring mattresses can boast about.
3. Exceptional Pressure Relief and Support
Pocket spring mattresses are the gold standard when it comes to robust, pressure-relieving support.
Unlike other spring mattresses, pocket springs or pocket coils react and adapt individually to your movement. This contributes to motion isolation and exceptional body contouring.
And as each pocket spring conforms to the shape of your body, you'll experience pressure relief like never before. Your bed will cradle and absorb pressure points like your shoulders or hips.
And when your bed supports optimal posture and spinal alignment, back pain becomes a thing of the past.
The Serta Perfect Sleeper collection features 7-zone pocket springs, molding finely to the shape of your body.
4. Hybrid Mix of Supportive Layers
Proper posture is important whether you're upright or lying down.
Hotel mattresses combine a variety of supportive layers.
Pocket springs absorb your pressure points, promote airflow within the layers, and have zero motion transfer. Latex layers respond to your body's curves, helping keep your posture aligned. A memory foam topper memorizes the shape of your body, cradling your body flawlessly. (And with Serta's KoolComfort™ technology, your memory foam stays cool throughout the night.)
A bonus pillow top layer will make even your firm mattress utterly cozy and plush.
Serta hotel mattresses provide superb posture support. And when you have a bed that keeps your spine aligned, you'll feel it in the morning. Absolutely refreshing!
5. Ideal for All Sleeping Positions and Weight Groups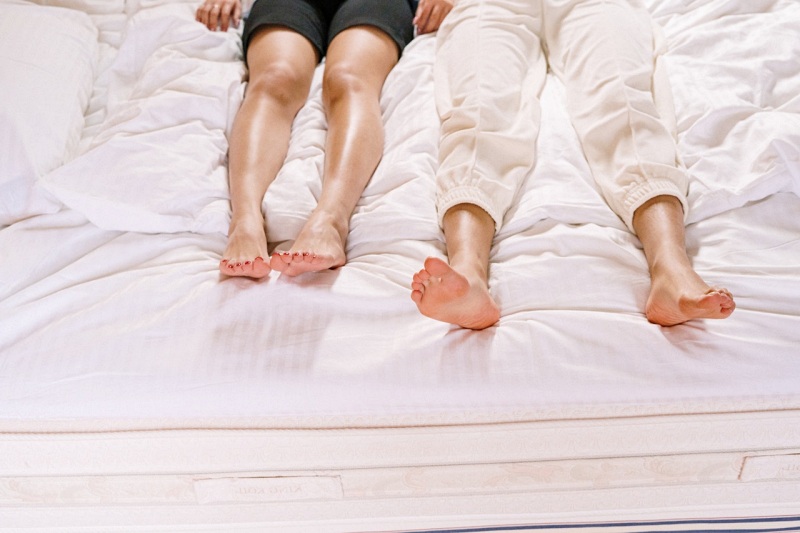 Because all types of sleepers use hotel beds, hotel mattresses suit the general public.
But Serta hotel mattresses seek to pamper everyone.
Serta provides three different firmness levels for each mattress. And each model marries different combinations of layers designed to relieve pressure and cradle your body.
We use the latest innovations in sleep technology to create the most indulgent sleep experiences.
We have a mattress for every type of sleeper. Whether you sleep on your side, on your stomach, or in a fetal position, we're sure to carry the bed of your dreams. Even if both you and your sleeping partner sleep like a starfish, we have the perfect mattress size for you.
RELATED: 6 Bedroom Essentials You Need to Achieve an Ultimate Luxury Hotel Vibe
How to Make the Most of Your Serta Hotel Mattress
Use Luxurious Bed Sheets
Crisp, white sheets capture perfectly the luxurious hotel experience we look for.
Buy ultra-soft and cool sheets to enhance your sleeping experience. These will help lull you to sleep and keep you comfortable throughout the night. And don't forget the mattress and pillow protectors to keep them hygienic.
But if white is a bit dull for you, turn your bed into a centerpiece. Elaborate patterns and stand-out colors can double as design pieces.
But stick to subtle, pastel tones if vibrant hues are too stimulating.
Luxury hotel tip? Steam your sheets when you get out of bed in the morning. You'll return to a tidy bed and overall relaxing ambiance.
Make Use of Pillows
Pillows are just as important as mattresses when it comes to proper posture. Pillows help elevate your bed to the ideal level to support your neck and shoulders.
But pillows aren't just for your head. You can place them between your knees and hold them in your arms to help you maintain a more comfortable sleeping position.
And when they're plush and bouncy, it just makes plopping down on them much more enjoyable!
Turn Your Mattress Regularly
Whether in your master bedroom or luxury hotel suite, it's important to turn your mattress regularly. This keeps your mattress from sagging and leaving an impression of your body after years of heavy use.
When mattress shopping, separate the sheep from the goats.
Narrow down your list to brands that use only the highest quality materials that offer a balance of robust support and plush comfort. And if your mattress doesn't come with at least a 10-year warranty coverage, move on.
Serta mattresses are Serta-fied to grant you VIP treatment no matter the price point. Engineered to last and crafted for indulgent comfort, outfit your bedroom only with a Serta hotel mattress.
Serta isn't just another hotel mattress brand. There's a reason why luxury hotels choose Serta to outfit their suites.
With Serta, you can make your staycation dreams come true by staying at home.
Suite dreams!
Have you encountered a Serta hotel mattress on one of your trips? Share your experience with us in the comments section below! We'd love to hear from you.
UP NEXT: