Knowing how to test a mattress eliminates the guesswork and sets you up to find the perfect mattress for you and your sleeping partner.
RELATED: How To Choose The Best Luxury Mattress To Achieve A Good Night's Sleep
Tips on How to Test a Mattress
What to Bring to Your Mattress Testing
1. Mattress Wish List
To start off your checklist, you first need to read up on:
Understanding each of these will give you an idea of the kind of support you'll need and what kind of mattress will give you exactly that.
Note how firm you need your mattress to be. Figure out which supportive layers you think you will benefit most from.
Take into consideration any back pain you might have.
If your old, saggy bed is causing your back pain, then prioritize features that promote good posture. If you're dealing with chronic back pain, are an athlete, or are nursing an injury, take the time to research what types of mattresses and layers can help ease your joint or muscle pain.
2. Sleeping Partner
Size matters.
Make sure both you and your sleeping partner—whether two- or four-legged—have enough wiggle room to move around and accommodate your default sleeping positions.
Find the middle ground.
The perfect mattress is not a one-size-fits-all case. And so that's why finding a mattress that works for both you and your sleeping partner is important.
How to Test for Spinal Alignment and Pressure Relief
Why is it important? Optimal posture and pressure relief is a basic mattress must-have. Your mattress should be able to maintain the natural curve of your spine, keeping it aligned and relaxed throughout the night. Otherwise, you can expect to wake up to an aching back and a need for a new, better mattress.
Get Into Your Favorite Position
Back sleepers: Lie on your back and focus on the curve of your spine. Your posture should remain straight and the mattress should be cradling every inch of your back. If there's a section of your back that doesn't touch the mattress, then you might need a softer mattress. And if you feel as though your matters is swallowing you whole, go with a firmer option.
Side sleepers: Check if your waist or lower back either dips too deeply into the mattress or is pushed too far up. Your posture should remain neutral as though you're standing upright. You can also ask your sleeping partner to take a photo of your back.
Stomach sleepers: Get on your stomach and pay attention to how your lumbar area feels. If your midsection sinks into your mattress too deeply, choose a firmer mattress.
Throw a Pillow into the Mix
Bringing your current pillow can help better simulate what it would be like sleeping with your new mattress. Your pillow and mattress team together to support your neck and shoulder area. With the right mix, you can create a system that provides pressure relief while promoting spinal alignment.
This may be especially vital to light sleepers (less than 60kg) with more prominent and vulnerable pressure points.
How to Test Motion Transfer on a Mattress
Why is it important? Motion transfer is a mattress feature where a shift in weight is isolated in the area where pressure is applied. In simple terms, when your sleeping partner quite literally hops into bed with you, you will barely feel the shift in weight.
To test for motion transfer, lie on the bed with your partner and have him move around, shifting his weight from side to side. If you feel minimal movement on your side of the bed, then the mattress does in fact boast zero motion transfer.
Some brands may advertise by demonstrating how stable a cup of water can be on their mattress.
Zero motion transfer is critical for light sleepers that wake up the slightest movement. The feature also comes in handy for sleeping partners that move a lot throughout the night. Uninterrupted sleep is significant to optimal sleep and zero motion transfer is one of the keys to just that.
How to Test for the Right Mattress Height
Why is it important? Whether your mattress is too high or too low dictates how easy it is to get on and off. And if you're dealing with joint pain, it becomes much more important.
Sit and get up from the mattress multiple times. Sometimes, you can tell almost immediately if the mattress is too high.
Ask yourself:
Is it easy on the knees?
Can I get on the bed from a neutral position or do I have to angle myself?
Can I get in bed with ease?
After a few repetitions, do I feel strain in some areas?
Add the mattress height to the height of your bed foundation. If you don't already have a bed foundation, pick your favorite mattress and choose the bed foundation accordingly.
How to Test the Mattress Edge Support
Why is it important? Edge support is an added feature manufacturers install around the perimeter of a mattress. Foam encasements create a sturdy outer wall for your mattress to make sure sleepers don't roll off the bed when they sleep on the edges.
Encasements can also getting on and off the bed significantly easier.
Sit on your bed for a while before lying down. Roll around the bed from edge to edge and pay close attention to the experience.
Ask yourself:
Does the bed properly prop me up when I sit at the edge?
Or does the bed sag and dip too deeply when I sit?
Does it feel like I'm falling off when I roll towards the ends?
RELATED: Different Types Of Firmness In Mattresses
How to Test a Mattress for Temperature Regulation
Why is it important? Mattress temperature regulation systems work to keep both you and your bed cool throughout the night, keeping you cool and cozy while you rest. Some mattresses have cooling systems that double as mechanisms to keep the layers of your mattress moisture-free and hygienic.
Lie down on the mattress in your favorite for approximately 15 minutes. Mattresses without cooling systems will warm up over time. And those with memory foam not fitted with an adaptive cooling system will envelope you in body heat.
How Long Should You Test a Mattress?
Fifteen minutes is a long enough simulation to give you a glimpse of what 10 years would feel like.
Change positions occasionally to get a grasp of your sharpest pressure points and which areas lack support. Pay close attention to your spinal alignment and how the mattress feels against your joints and muscles.
Why Do You Need to Know How to Test a Mattress?
Mattress testing is a great way to assess whether you've truly found the winning mattress. Mattresses are sizable investments and demand a lot of research and testing.
And with no market standard firmness levels, it's difficult to understanding what you're really getting out of a mattress with just a few descriptions from product pages.
Giving a mattress a few bounces and a thorough physical inspection can help you feel more confident about your purchase—giving you a peaceful night's rest in more ways than one.
Sleepers with particular needs and preferences can get expert help from sales consultants and sleep experts to match their needs with the mattress of their dreams.
The shape of the perfect mattress is molded by your individual body shape and personal sleeping preferences. And while customer reviews and recommendations are a great way to weed out ad reel from reality, remember that mattress are not a one-size-fits-all case. What worked for one sleeper may not work for you.
Mattresses generally have a lifespan of 10 years, making them a worthy and important investment. Spend ample time on finding the perfect one and you're guaranteed to enjoy it for a decade.
Mattress Testing—Sleep on It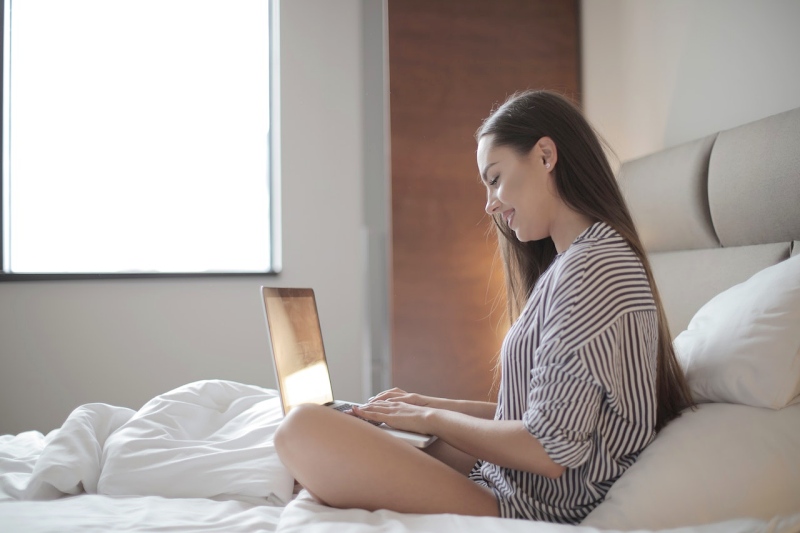 Consider these when you go mattress testing— your unique and personal wish list, spinal alignment, pressure relief, motion transfer, mattress height, edge support, and temperature regulation. Once you've found a mattress that ticks all the boxes, you've got yourself a winner!
It can take plenty of tries and a few store visits before you narrow down your list. Be patient when making decision. Ask your doctor, a sleep expert, or an experience sales consultant to break the tie. Getting some outside perspective can also help you address issues or even bring some you may have missed out on to light.
Choose your mattress with a prudent eye. Mattresses are a pricey investment. But what they do bring you is an equally sizable list of health benefits and years of good sleep.
Now that you know how to test a mattress, are you more confident you can spot the best mattress for you? Did we miss out on any tips and tricks on testing out mattresses? Please share your thoughts with us in the comment section below! We'd love to hear from you.
UP NEXT: